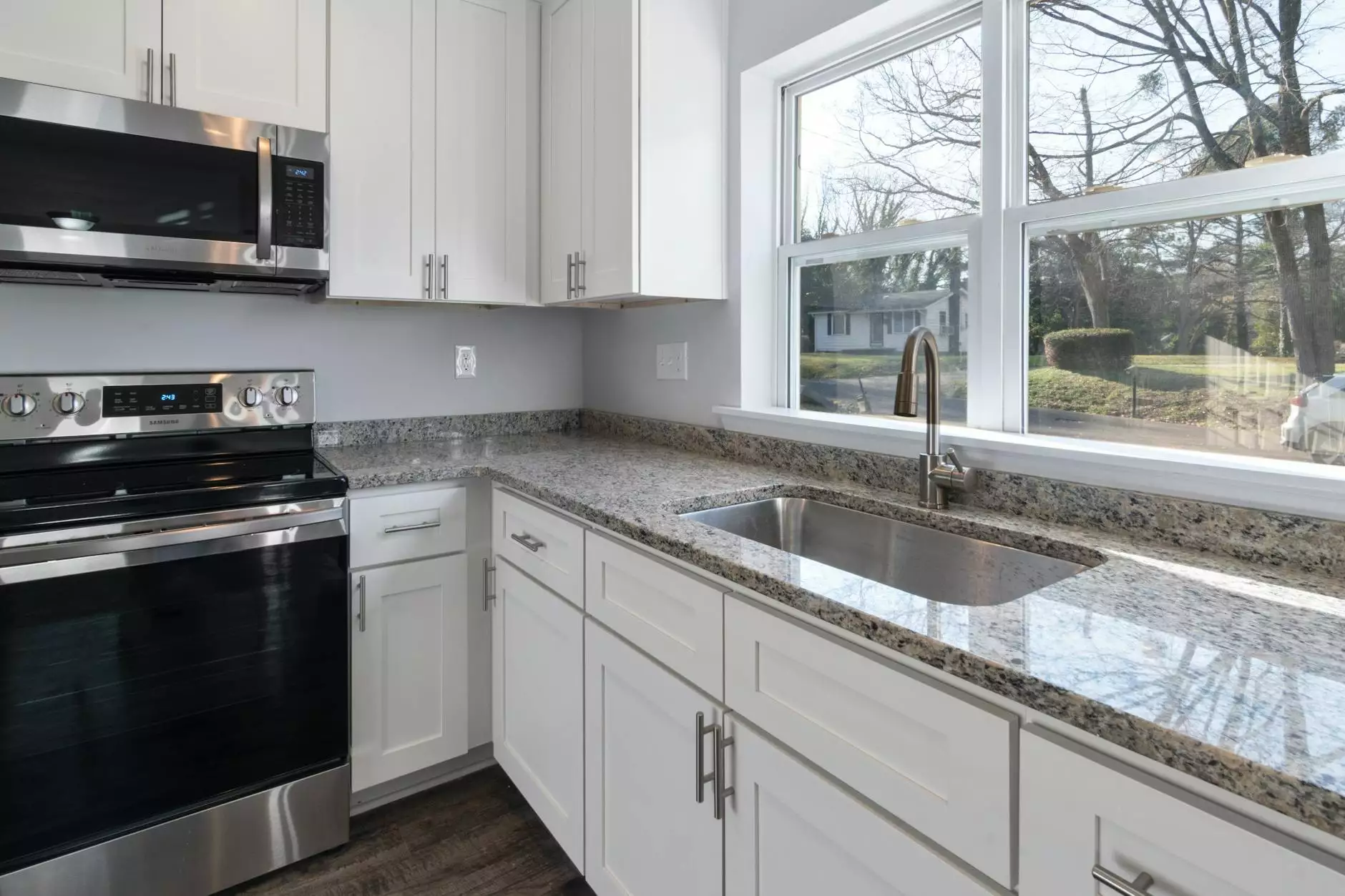 At MM Kitchen, we understand that your kitchen deserves the finest materials and finishes. That's why we offer a wide selection of high-quality Granite Countertops that will elevate the aesthetic appeal of your kitchen while providing durability and functionality.
Why Choose Granite Countertops?
Granite has long been a popular choice for homeowners due to its natural beauty and durability. Here are some of the reasons why you should consider Granite Countertops for your kitchen:
Aesthetics
Granite countertops offer a timeless and elegant look that adds a touch of luxury to any kitchen. With a wide range of color options, patterns, and finishes, you'll be able to find the perfect Granite Countertop to complement your kitchen design.
Durability
Granite is one of the toughest natural stones, making it highly resistant to scratches, heat, and stains. When properly sealed and maintained, Granite Countertops can withstand the demands of everyday use and last for decades.
Easy Maintenance
Granite Countertops are relatively easy to clean and maintain. Regular wiping with a mild soap and water solution is usually enough to keep them looking like new. Additionally, our team at Josco Construction offers professional cleaning services for a hassle-free experience.
Health & Hygiene
Granite is a non-porous material, making it resistant to bacterial growth, mold, and mildew. This feature ensures that your kitchen remains a clean and sanitary environment, promoting the health and safety of your family.
Explore Our Granite Countertop Collection
MM Kitchen is proud to offer an extensive selection of Granite Countertops that cater to a variety of tastes and preferences. Whether you prefer classic, contemporary, or unique designs, our collection has something to suit your style.
Elegant Black Granite
Black Granite countertops exude sophistication, making them a popular choice among homeowners with a modern aesthetic. The sleek, polished surface adds depth and contrast to lighter cabinetry and creates a striking focal point in your kitchen.
Timeless White Granite
White Granite countertops are known for their timeless beauty and versatility. They effortlessly blend with any color scheme and can brighten up your kitchen, giving it a fresh and airy feel. Whether you're aiming for a traditional or contemporary look, white granite is always a reliable choice.
Natural Earth Tones
If you prefer a more organic and natural look, our collection also includes granite countertops in warm earth tones such as beige, brown, and green. These colors bring a sense of warmth and coziness to your kitchen, creating a welcoming space for family and friends.
Transform Your Kitchen with MM Kitchen
With MM Kitchen's Granite Countertops, you can transform your ordinary kitchen into a stunning culinary oasis. Our team of experts at Josco Construction will guide you through every step of the process, from selection to installation, ensuring a seamless experience and exceptional results.
Contact Josco Construction Today
If you're ready to take your kitchen to the next level with top-of-the-line Granite Countertops, don't hesitate to contact Josco Construction. As a trusted leader in the industry, we provide unparalleled service and expertise in the field of Business and Consumer Services - Cleaning.
Reach out to us today to schedule a consultation and explore our extensive range of Granite Countertops. Let our team help you create a kitchen that not only meets your needs but exceeds your expectations!